From HenryMakow.com
February 20, 2017
(At the GOP Convention, Pence made sign of Baphomet. Accused of being a pedophile.  Trump's LBJ?) 
by a satanic cult, the Illuminati, that uses satanic ritual murder and pedophilia to
compromise & control many leading politicians. The insider says that Trump's "path to greatness" lies in exposing this massive child trafficking network which, like the drug trade and the mass media, is run by the CIA and other government agencies. The problem, however, is that Trump himself may be compromised. And he is surrounded by people who have been implicated, beginning with the Vice President Mike Pence. 
by Henry Makow Ph. D
Vice President Mike Pence 
has been implicated in the pedophile scandal that has the establishment in a panic. According to former CIA 
analyst Robert David Steele
, General Michael Flynn was not dismissed for talking to the Russian ambassador and lying about it. He was fired because he had information on a close friend of Pence who is a pedophile. This is consistent with the fact that 
Flynn's son was also fired 
during the campaign for tweeting about pizzagate. 
(See also)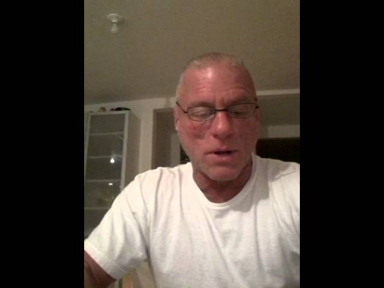 More concerning is that Tory Smith, left, has 
a series of youtubes 
accusing Mike Pence of being a multiple child rapist and murderer. Smith, who claimed to be a victim of satanic ritual abuse himself, makes a series of frankly crazy assertions. However, he predicted that Indiana State Police would kill him, and indeed, 
as of July 2016, he is dead.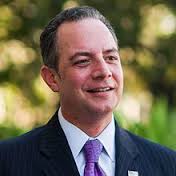 Steele calls Trump's Chief of Staff Reince Priebus, left, "a pedophile enabler if not a pedophile himself" who is a sycophant of the GOP elite, sabotaging the Trump's administration from within. Steele says pedophilia is the deep state's "achilles heel." The Democrats are amateurs compared to the GOP and "Wall Street bankers" who have perfected it into an art. There are "Saudi restaurants" in DC with basements where children literally are on the menu.
Steele says Trump is horribly isolated and needs to reach out to people like himself, Kucinich, Ralph Nader and Jesse Ventura. However, every time Steele has approached the Trump officials, he has been blown off.
Steele says Trump needs an electoral reform act that will draw the 70% of people Soros doesn't control to his side. He says Soros is preparing an "American Spring" uprising to overthrow Trump. He says the NSA has been spying on American politicians for decades and needs to be "shut down."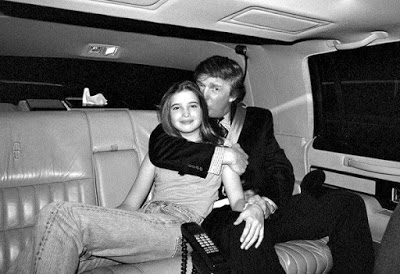 (With teenage Ivanka)
The fact that Flynn and his son were dropped from the Trump team for their focus on pedophiles does not augur well for those who think Trump is going to "drain the swamp", and destroy the deep state.
Steele confirms that Jeffrey Epstein's Palm Beach home and island sex retreat was a Mossad blackmail operation, and 
we know Trump visited 
both places. 
(Also)
Finally Trump's
 latest nomination
 for Labor Secretary makes his administration look like an awards program for the Lolita Express.
However, I think Americans would forgive Trump if he repented his own sins and cleaned house. This needs to be done or we are doomed.